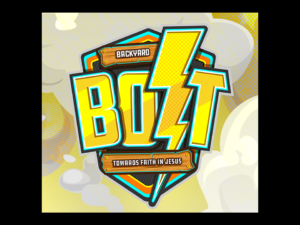 We are so excited to announce that VBS WILL BE HAPPENING this year! With one modification, though. Instead of our traditional VBS we are providing you with two options for attending, 1) participate online at your convenience; or 2) join us at our Drive-In VBS in the church parking lot.
This summer, on July 14 thru 16, we will be using a quarantine friendly VBS called BOLT. With minimal preparation, easy-to-follow instructions, and a video that leads you and your kids step-by-step through each of the 3 days, BOLT is designed for you to perform with your family at home. It's so simple!
During at home BOLT, your family will participate in fun games that illustrate what it means to listen to, focus on, and follow Jesus. Depending on your pace, you can expect that each day's experience will last about an hour and a half. It's great for kids 5 and up. Even middle and high school kids can enjoy it!
During Drive-In BOLT, your family will have a designated parking space, watch VBS video on a large screen, and participate in fun games as a family unit. We expect it will last about an hour to an hour and a half. We will begin the video at approximately 8:00 p.m. depending on when it's dark enough to view.
There's something else we're really excited about—this could also be an amazing outreach opportunity. If you feel comfortable gathering with more people, you can invite your neighbors, friends, and family to your house for BOLT or invite them to register and join you at our Drive-In VBS. It's such an easy and fun way to share the good news of Jesus with our community.
Keep in mind that parking spaces are limited, and families must register to ensure they have a spot and we have sufficient supplies.
We'll be sending you more information as we get closer to July 14 thru 16. In the meantime, get your family excited about BOLT. This is going to be SO MUCH FUN!
In Him,
Children's Youth Ministry Committee